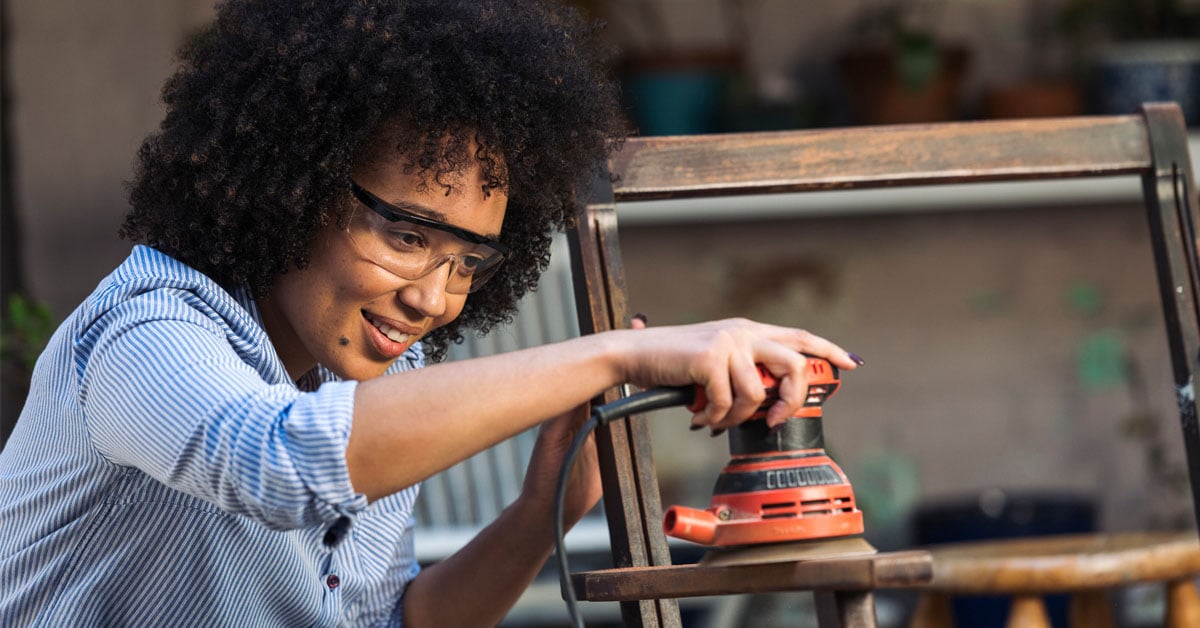 The crisp chill of autumn is in the air and that means millions of Americans are starting to compile their list of seasonal DIY projects. From upgrading the furnace to replacing roof shingles, fall is seen as the optimal time to get the house in order to prepare for winter.
But of all the tools in your DIY arsenal, your eyes are the most essential of all. It can be easy to dismiss the importance of protecting your vision, but you never know when an accident can occur. In fact, 125,000 eye injuries occur each year just from household products alone and 40% of all eye injuries occur during home projects. What's more, 90% of at-home or on-the-job eye injuries can be prevented through simple safety precautions and eye protection.
We certainly like those 90% odds and we're sure you do, too! So, before you start rummaging through your toolbox and checking tasks off the project list, let's spend some time talking about ways you can keep your eyes safe for many DIY projects to come.


Wear goggles, not just eyeglasses
Safety goggles tend to get dismissed as an overkill safety accessory. But we only get one set of eyes in this lifetime and when it comes to safety, there are no such things as too many precautions!
And if you wear glasses already, they are not enough to protect you from flying debris or potential impact. In fact, since they are made of glass, they can potentially shatter and cause even more damage should an accident occur. Instead, invest in a pair of goggles made from polycarbonate material, which is resistant to shattering and ultraviolet exposure. Look for goggles marked "ANSI Z87.1:" this is the approved safety standard as outlined by the American National Standards Institute.
So, don't let vanity take the lead here: invest in a pair of safety goggles and wear them when you're working on a project with potential flying debris. We promise, safety looks way cooler than an eye injury!


Wash your hands before touching your face
Touching our faces is so instinctual (many of us do it up to 16 times an hour!) that we don't even think about it. But when you're working on a project, it can potentially be dangerous to rub your eyes or scratch an itch if you haven't washed your hands first.
So, if you're working with any kind of paint, varnish or household cleaning product, make sure to wash your hands thoroughly for at least 20 seconds before touching your face. If you do touch your eyes by accident and feel a burn, make sure you flush your eye with cool water for at least 15 minutes and then seek medical care.

Use the buddy system and possibly delegate
Even if it seems like the task at hand is a one-person job, it's a good practice to make sure someone is home with you while you work. In the event of an accident, they can help with any injuries or calling for help. Make sure you have a phone and first aid kit nearby as well.
While we're on the topic of assistance, now is a good time to take an honest look at your project list and decide if some of these tasks should be delegated to a professional. It can be tempting to find a few YouTube videos and feel like you got the project in the bag. But as much as we want to save money by doing home improvement projects ourselves, some projects simply shouldn't be DIYs. Some things to consider are:
Do I have the proper tools for the job?
What is my own personal level of experience and skill with this task?
Does my community have any ordinances in place that require a permit for the job?
Are my health and safety at risk?
Answer these questions honestly and if you notice any red flags, it is probably best to leave the project to a professional.
The bottom line: Most eye injuries are preventable, so make sure you wear a pair of ANSI-approved goggles when doing any work with potential flying objects and debris. Wash your hands thoroughly when handling any chemicals or household cleaning products before touching your face. Don't start a project without someone else home and consider delegating to a professional if the project has too many red flags.