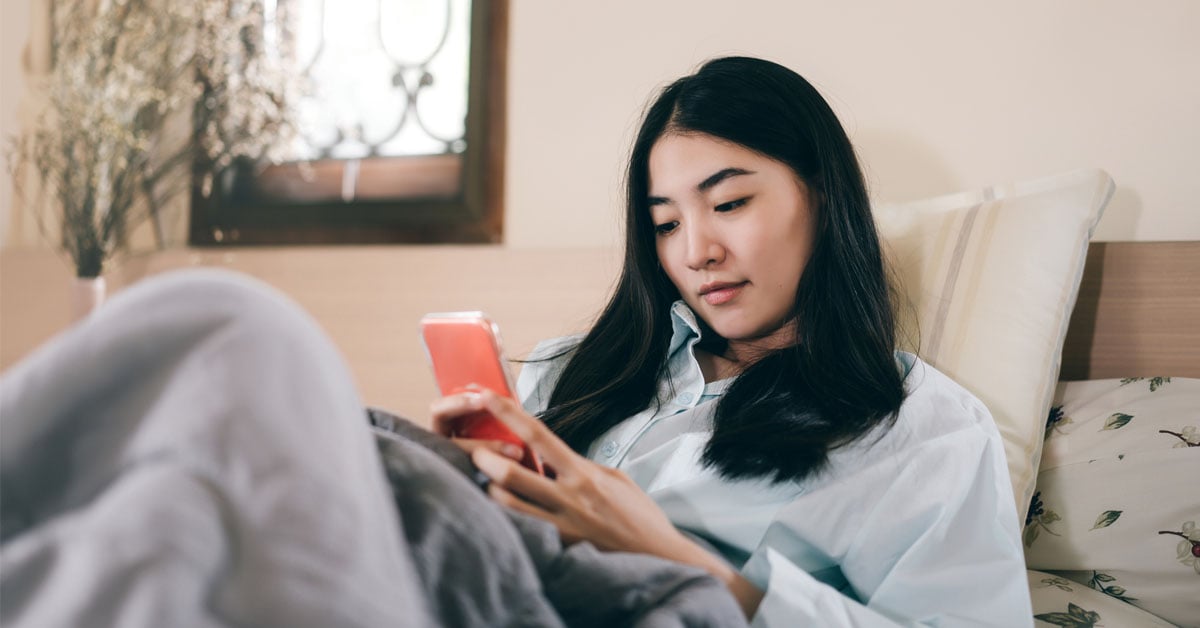 With COVID-19 disrupting every factor of our day-to-day, we have been hyper-focused on our physical health and taking a multitude of precautions to keep ourselves and those around us safe. However, the coronavirus has also shone a spotlight on our mental health, which has taken its toll during the pandemic.
According to the Kaiser Family Foundation, 53% of adults reported in mid-July that their mental health had been negatively impacted by COVID-19, a stark increase from 32% in March. In fact, it is estimated that 40% of Americans are going through depression related to the pandemic. And with the colder months ahead of us, those numbers will likely rise, particularly for those who may feel complications from seasonal affective disorder (SAD) on top of an already stressful year.
But there is one positive thing the pandemic has introduced us to: the ability to utilize technology for not only connecting with loved ones, but also healthcare professionals. And for those whose mental health has seen better days, teletherapy can be a great option.
Today, we're going to break down everything you need to know about teletherapy, including how it works, the benefits it provides, how to get started and what it costs.


What is teletherapy?
As the name implies, teletherapy is any type of communication bridge that allows the patient and therapist to connect remotely. These can include:

Video conferencing, using tools such as Zoom and FaceTime
Phone calls
An instant messenger service on your device
Apps or online services that are designed to connect the user with a therapist and resources
Whether you are limiting your time outdoors due to the weather, would rather utilize remote care during the pandemic or simply don't feel comfortable talking face-to-face, teletherapy is a good alternative to in-person sessions.


What are the benefits?
First and foremost, teletherapy provides greater access to therapy for those who may not be able to attend traditional therapy due to their schedule, a physical disability or geographic location from a therapist. This is especially helpful for those who may live in more rural communities with fewer options for care.
On that same note, teletherapy allows the patient to connect with someone specifically trained in behavioral health. According to a study by the Behavioral Health Workforce Research Center at the University of Michigan School of Public Health, 60% of mental care visits are conducted through a primary care physician, who may have limited expertise in behavioral health.
There is also the benefit of peace of mind that comes with anonymity. Even though mental health care has become far more normalized, there is still a stigma attached to seeking therapy and a lingering fear of being judged by others. If that is a concern for you, it can be comforting to be able to talk to a therapist from the safety of your home and not have to sit in a waiting room.


How do I get started?
If teletherapy sounds like something you'd like to try, the first step is to determine what kind of care you feel comfortable with.


In-person remote sessions
If you would like to speak with a therapist in your community using a remote option, you will need to research a therapist. Websites like Find a Therapist, the Anxiety and Depression Association of America (ADAA) or the American Psychological Association (APA) all offer databases you can search to find someone in your area. If you feel comfortable asking, you can also check in with your friends, family or community group members to see if they have any recommendations.
Tip: Look for mental health experts who are part of a professional organization and have an accreditation such as Licensed Professional Counselor (LPC), Licensed Clinical Social Worker (LCSW) or Licensed Clinical Psychologist (LCP).
From there, you can request an informal call to get to know them, learn about their teletherapy options, inquire about costs (more on that in a bit) and see if their type of care is right for your situation. Ideally, you will meet with a few therapists before finding the one you feel most comfortable with. You will need to feel that you can be open and honest with this person, so don't skip this step!


Online service
If you'd like to pursue the purely digital route, there are many services offering access to licensed therapists and mental health experts. A few popular ones include Talkspace and Better Help, which connect you to a professional therapist based on your needs and location.
From there, you will be able to chat with your therapist any time you need it via instant message. You can also schedule one-on-one phone calls or video chats to speak to them from the comfort of your home.


How much does teletherapy cost?
The cost of teletherapy will vary based on whether you choose to see a local professional remotely or use an online service. A standard in-person session can cost around $100 and online avenues, such as Talkspace and Better Help, charge around $60-80 a week for their services.
Whether insurance covers teletherapy will greatly depend on where you work and live. Check with your insurance provider to see what your options are. If your employer offers an employee assistance program (EAP), you may be able to get a discount on teletherapy sessions and services.
Tip: Online teletherapy services occasionally offer discount promo codes to use when signing up, so do some research to see what you can find!
If you don't have insurance or are not sure if you can afford teletherapy on your own, you have other options. You can check to see if there is a federally funded health center near you, which can be a good resource for low-cost mental health care. Also, the National Alliance on Mental Illness (NAMI) has a helpline (800-950-6264) you can call and many of their local affiliates offer free support groups.
The bottom line: Teletherapy is a great way to help ease the burden of mental distress, especially during COVID-19. There are many benefits to seeking remote care, including a greater network of access and the peace of mind offered by being in your own home. Do your research and make sure you feel comfortable before selecting a therapist or service right for you. Inquire with your insurance provider or employer about coverage or look for online service promo codes to help mitigate the cost. Don't let cost be a barrier to getting the care you need: you always have options.