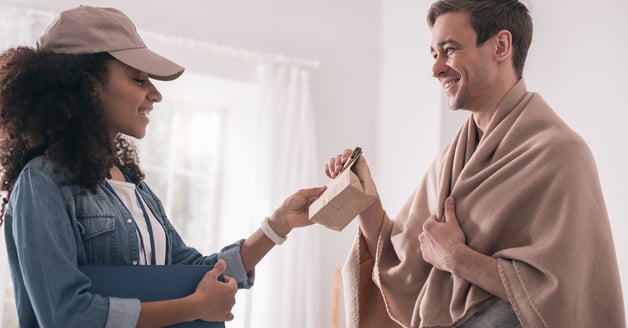 Receiving your daily prescriptions through the mail isn't a brand-new idea. In fact, online and mail-order pharmacies have been available for years. Today, your medical insurance plan probably includes an option to mail order 90-day refills of your prescriptions at a discounted copay, and there are a host of different apps and online services offering different takes on the pharmacy delivery model. In years past, though, having drugs delivered to your door could be shady, or even dangerous. Is that still the case?
We'll cover all that and more in this article.
The "bad old days" of mail order prescriptions
Doing a Google search for "cheap online pharmacy" brings up over 370 million options, with some common names populating the top results: CVS, GoodRx, and Wal-mart, for example. But, right there on Page 1 are sites with names like PlanetDrugsDirect and RxCanada4Less. Are they reputable? Are they safe?
A decade or more ago, the numbers were smaller, but the proportion of online pharmacies that turned out to be unsafe was much higher than it is today. Many of these "pharmacies" were nothing more than warehouses filled with questionably-sourced drugs. They often didn't even have a pharmacist or other medical professional on staff. Additionally, independent testing often found that the "medications" many of these sites mailed out were either less than pure, or in some cases, had no medicinal value at all.
In an effort to protect American consumers and crack down on these high-tech drug dealers, the Food and Drug Administration (FDA) developed the BeSafeRx program. As part of this educational program, consumers were taught four key signs of a fraudulent or illegal online pharmacy:
No prescription required - If an online pharmacy doesn't require a legitimate prescription from a medical doctor, don't walk away, run.
Deep discounts or cheap prices - While it's true that most legitimate online pharmacies can offer most prescriptions at highly competitive prices, you need to use balance and be realistic. If your local neighborhood pharmacy can offer a 30-day supply of your prescription for a retail price of $30 and the online pharmacy can offer the same for $1.25, it's probably not the same.
Ships worldwide - Every country has its own set of laws and regulations around prescription drug manufacturing, sales, and distribution. Many also have very strict laws governing the shipment of drugs across international borders. If a company feels confident with flaunting all those regulations and sending your order wherever you want it to go, what other laws are they willing to bend or break?
Outside the United States - Building off the point above, United States laws around prescription drugs are among the strictest you'll find. That's why, for American consumers, it's generally best to stick with a pharmacy that legally operates in the U.S. That way, you can be sure the drugs themselves and the systems used to make, sell, and distribute them are all up to the legal and health standards you expect.
Due in no small part to the efforts of the FDA, today's pharmacy delivery landscape is very different, and a number of legitimate options are available. However, it's important to realize that questionable companies are still out there, so it pays to remain vigilant when searching for alternate sources for your prescription drugs.
Apps, sites, and services galore
In recent years, one of the biggest growth opportunities in the pharmacy delivery space has been in mobile and Web-based apps that seek to make managing and obtaining your prescriptions as quick and simple as possible. A number of relatively new startups are finding great success in this area. Here are some examples, in no particular order:
Pillpack - This Amazon-owned company offers a low-tech, practical solution to save customers a lot of time, while also helping patients take their meds on the appropriate schedule. You or your doctor can send your prescriptions to the company, and they will ship you a dispenser filled with individual "dose packets" that clearly display the medication name, dosage, and the date and time you should take them. This eliminates the time and effort required to pick up prescriptions at the pharmacy and to sort the pills out when you get home.
Round Health - While there are dozens of smartphone apps that will help you remember to take your pills, Round Health offers a combination app and smart pill bottle that adds a unique Internet-of-things (IoT) facet to the equation. By including a Wi-fi-enabled pill bottle, the solution aims to improve patient adherence to prescription dosage and timing. According to the company's press release, "Round Refill is a premium medication reminder system that helps people be better about taking their pills day-to-day and refill-to-refill. It's the first pharmacy delivery service integrated with a smart bottle and app. The bottle lights up to remind users when to take their medication and tracks how many pills are left so refills are delivered to the home only when needed."
Nurx - This app-based prescription delivery service focuses specifically on women's health needs, offering a discreet, low-cost, low-drama source for contraception and sexual health prescriptions and screening kits. Owned and operated by medical professionals, "the Nurx medical team believes that everyone deserves access to personalized, non-judgmental healthcare, and that open and honest communication is key." (Another startup, LemonaidHealth offers a similar arrangement with a slightly wider list of concerns that they address.)
Capsule Pharmacy - One of many pharmacy delivery services with a tight geographic focus, Capsule serves New York City with free, same-day delivery. They also have pharmacists on staff so you can still get your questions answered without giving up the convenience of to-your-door service. Other similar examples include:
These and many other startups are forcing the traditional pharmacy to evolve, with the customer reaping the benefits of convenience and time and cost savings. Perhaps the biggest benefit of all this is how it allows everyone to focus more on health and wellness without adding so much cost or stress that it negates the benefits.
Click below to learn about another beneficial health and wellness program that's doing much the same thing for thousands of current members.