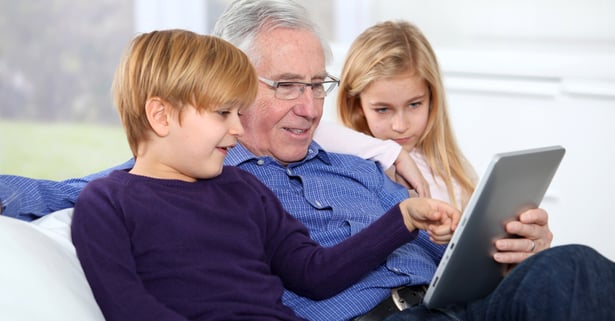 Humans are social creatures. Connecting with friends and family and feeling like we're a part of something greater than ourselves is truly vital for people of all ages and personalities.
Seniors in particular often have difficulty maintaining strong social connections. This can be caused by health issues or reduced mobility that prevent them from getting out as much, or a lack of knowledge or confidence with technology. Regardless of the reason, studies show that prioritizing social connections in the senior years goes beyond relieving loneliness.
Why social connections are vital for seniors
Acts Retirement noted, "Consistent social interactions help keep people mentally, physically and emotionally fit. Of course, they also fend off the difficulties inherent to isolation and make our lives feel more meaningful in an overall sense." They went on to report on various studies that showed active socialization helped seniors enjoy less stress and anxiety, better physical fitness, reduced risk of depression, greater self-esteem, better cognitive health, and longer lifespans.
One of the key connections grandparents want to maintain is with their grandchildren. It's not uncommon for grandparents and grandchildren to live far away from each other, making visits difficult. However, there are a number of low- and high-tech ways that modern grandparents can stay in touch and enjoy meaningful quality time with their grandkids despite a long distance between them.
High-tech ways to stay connected
Technology that's readily available to nearly everyone today can make staying connected almost effortless.
A survey conducted by AARP earlier this year found that nearly a quarter of grandparents use video chat apps or devices to regularly stay in touch with their grandkids, and 18 percent communicate using Facebook.
A simple telephone call is still the most popular method, but with very young grandkids, this can be less productive than chatting over a video. Texting is popular with older grandchildren.
CHRISTINE CHARBONEAU/AARP RESEARCH
However, the survey surfaced an important additional point, "The survey showed that more grandparents like the idea of using video chatting, texting and social media to keep in touch than actually do so. In all, 39 percent of grandmas and 36 percent of grandpas say that keeping up with technology is difficult."
This is a perfect opportunity for help from the other side of the relationship. Skype and similar apps have become ubiquitous in the modern business setting, and most grown kids and even grandkids are probably familiar and comfortable with them. If your parents or grandparents are willing to learn, why not make the effort to teach them how to use one or more devices or apps that can help facilitate an even stronger connection?
Doing so will definitely benefit you both.
Beyond video calls and social media, there are numerous specialty apps designed to make it feel like you're in the same room even when you're miles away. They include apps that let you read, draw, and play games with someone across the country. Click here to see a good list under the "Tech-savvy" heading.
Low-tech ways to stay connected
For grandparents who aren't comfortable with adopting newer technology, or who just prefer forging their relationships the old fashioned way, there are still many fun, easy, and effective methods available.
For example, in this world of constant digital messaging, many kids love the novelty and excitement of getting a "real" letter in the mail from Grandma or Grandpa. Here are some variations on the theme:
In addition to a standard letter or card, many grandparents make a real event of the mailing by including mementos or photos with backstories they can share.
One fun option for scrapbookers would be to buy an empty scrapbook binder for the grandchild, then send them one new page created by the grandparent every month or two, so the story (and the relationship) builds over time.
Some grandparents create packages filled with "When you…" letters, each in their own sealed envelope. With labels like, "When you get an A on a test" and "When you're feeling down," the grandchild can open each letter as needed and benefit from the grandparent's wise advice or commendation.
Just reading or telling a story over the phone can be enjoyable quality time. In reality, anything at all that maintains that important social connection is going to be beneficial for everyone involved.
For more wellness tips for old and young alike, stay tuned to the Dental Solutions blog so you don't miss an update. And, to save on all things wellness, consider the Wellness Complete discount program.