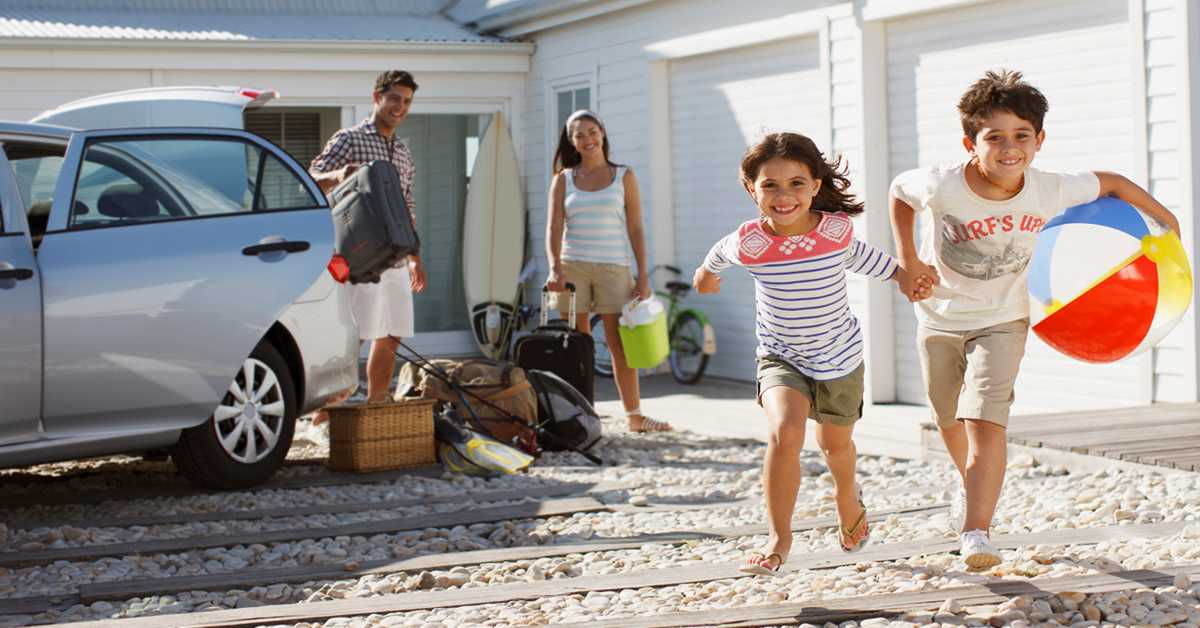 Ah, summer. Hot days and warm nights, bright sun and cool water, good times with friends and family… everyone loves the chance to get away and enjoy some hard-earned rest and relaxation during their summer vacation.
Some of the fun is the fact that the normal daily grind is left behind and you're free to do things you rarely get to do — or, do nothing at all — for a few weeks. If your vacation includes long-distance travel, there may be foods you've never tried before, sights you've never seen, and experiences you could never have otherwise.
With all this great stuff going on, though, how can you maintain your health and avoid breaking good habits or picking up bad ones? The two keys are preparation and adaptability.
Prepare ahead for a healthy vacation
If your vacation involves anything more than lazing away the day at home, you're probably already putting a lot of planning and forethought into it anyway. To make sure you maintain healthy habits and routines, just add the following items to your preparation checklist:
Pack water, healthy meals and snacks
One of the easiest traps to fall into while you're out and about is relying on fast food. This is especially the case when you're outside your normal routine, on the road or in airports, as you're likely to be if you're traveling during your summer vacation.
The best way to counteract that inevitable "Big Mac Attack" or 64-ounce Slurpee at the Circle K is to plan ahead by packing bottled water and healthy snacks to carry with you. Think fruit, granola, beef jerky, peanuts… the options are nearly endless. The key is to give it a little forethought and focus on snacks that will satisfy the munchies: something crunchy, something salty, and something sweet. Don't forget to keep it balanced by adding some protein.
Then, when it comes time to eat a real meal, you won't be so hangry you can't think straight. So, you'll be able to make smarter choices.
Plan "active" activities
Sure, your summer vacation should be a chance to relax and rest up. But, that doesn't mean it needs to be all lazy days on the beach or the couch. In fact, with a little advanced preparation, you can easily incorporate exercise into the day-to-day fun of your vacation.
Instead of building a day around hanging out at the hotel, how about spending a day at a national park with hiking trails to explore? Or, if you're going to be at the beach, why not see if you can set up a volleyball net and play? There are so many events to attend, natural wonders to explore, and fun to be had, you could over pack your vacation schedule if you're not careful!
The key is to be balanced, but always err on the side of something active over something inactive.
Bring sunscreen
It's simple, but so important: If you're going to be out in the summer sun, make sure you bring along plenty of high SPF sunscreen and reapply regularly. A sunburn is no fun, but skin cancer is deadly. And, prevention is simple.
Be adaptable while you're vacationing
Once you've planned out your vacation and made all the necessary preparations, it would be awesome if everything could just go flawlessly as planned. Unfortunately, reality isn't like that.
In the real world, it rains when you planned to be on the beach. Or, the amusement park is closed due to a swarm of locusts. Whatever the cause, you can bet at least some of your carefully laid vacation plans will fall apart at some point.
That's when you need to be adaptable.
Workout wherever you are with whatever you have
A beautifully appointed hotel gym is a wonderful thing. But, if your 5-star reservation gets misplaced and you end up at the Motel 6 down the road, does that mean you have to skip your morning workout?
It does not.
You can get a great workout in no matter where you are or what equipment (if any) you have available. If you're not already familiar with the hundreds of bodyweight exercises you can do right in your hotel room, they're just a Google search away. Try downloading a 7-minute Workout app for your phone. Or, just throw on your running shoes and head out the door.
The point is to be adaptable, but stick to a healthy routine, even when vacation plans go south.
Make smart choices when you eat out
We touched on eating out earlier, but it bears repeating: While you're on vacation, you'll probably be frequenting restaurants a lot more than you usually do at home. And, restaurants offer notoriously huge portions with no limits on the amount of tasty fat, salt, and sugar in just about everything.
That's why, if you want your scale at home to read roughly the same when you get back as it did when you left, you'll need to make smart choices while you're on vacation.
Load up on salad, and remember to order your dressing on the side. Try requesting a to-go box right along with your order. Then, you can cut whatever they bring you in half and enjoy the rest the next day for lunch. And, it's always smart to stick to water rather than sucking down 600 calories-worth of carbonated sugar water with free refills.
Of course, there's nothing wrong with the occasional splurge. It is summer vacation, after all! Go ahead and have that soft serve ice cream or a piece of authentic New York cheesecake. Chow down on that incredible looking burger at the shack on the beach. Just don't do it every night!
Take the stairs (and whatever else keeps you active)
Finally, it's important to remember that, despite your best efforts to stay active during your vacation, you're still most likely going to be spending a lot of time sitting in the car, standing in line, lounging on the beach, or otherwise relaxing. So, when the opportunity presents itself to get your body moving, take advantage.
Take the stairs up to your hotel room instead of that ultra-convenient elevator. Park your car at the furthest space from the entrance you're using, not the closest. Skip the shortcut at the zoo, even if the Reptile House bores you.
Above all, enjoy yourself on vacation this summer. And, follow these tips to stay healthy and happy no matter where you are or what you're doing!