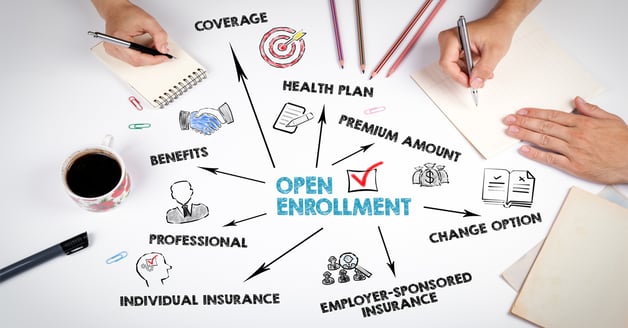 The open enrollment season is upon us once again, bringing with it plenty of questions and concerns. Most employers are gearing up to have their employees choose their benefit plans for the coming year.
But, what should you be doing to prepare and to make the best decisions as you enter open enrollment? The following tips can help you make practical preparations, educate yourself, and ensure you and your family have a healthy 2020.
Note: While this article is focused primarily on employees who are eligible for benefits through their employer, the principles apply equally well to those who are self-employed or otherwise responsible for their own insurance.
Determine all your options
Your first priority as you head into open enrollment is to make sure you have a clear understanding of the big picture. Consider the following questions:
What benefits and group plan(s) are being offered by my employer for 2020?
How have they changed from 2019?
If there are various plans to choose from, how do they compare to each other?
It's important to ask as many questions as possible as you're pulling together all your options. Set up a brief meeting with a knowledgeable HR rep or take advantage of any Q&A opportunities offered by your employer before and during open enrollment. If necessary, contact the prospective benefit administrators directly.
Don't stop asking questions and gathering information until you're certain you understand all your options in full.
Note: Most Americans purchasing their own insurance will want to explore the Health Insurance Marketplace. Their open enrollment period runs from November 1 to December 15. For those who will have Medicare coverage in 2020, their open enrollment period runs from October 15 to December 7.
Gather all your information
As you begin the application process, you'll find you need a lot of information at your fingertips. It's usually easiest and most efficient to gather this information together ahead of time so you can focus on completing your applications accurately.
Be sure to have the following information for reference as you're filling out applications for 2020 benefits:
Details regarding your 2019 benefits, if applicable
Social security numbers for yourself and all the dependents you will be enrolling
Up-to-date plan documentation from your employer
Employer contact information, including any plan numbers and employer numbers assigned by insurance carriers
Your and your family's up-to-date medical providers (with contact details), lists of prescriptions, current diagnoses, etc.
Now you're almost ready to make your selections and fill out all the forms. But first, there's one more matter you'll want to consider.
Explore insurance alternatives and supplemental plans
In most cases, choosing a health plan for your family comes down to balancing act. You need to isolate the best combination of options that will cover your family's unique healthcare needs while remaining cost-effective.
Unfortunately, with the current cost of health insurance in the United States, and the relatively slim selection of plans most employers offer, it's nearly impossible to make an optimal selection without exploring supplementary programs. These insurance alternatives can help fill the gaps where affordable insurance plans often skimp to reduce costs.
Armed with all this information, you're in the best possible position to put together an effective and affordable wellness package for your family for 2020.