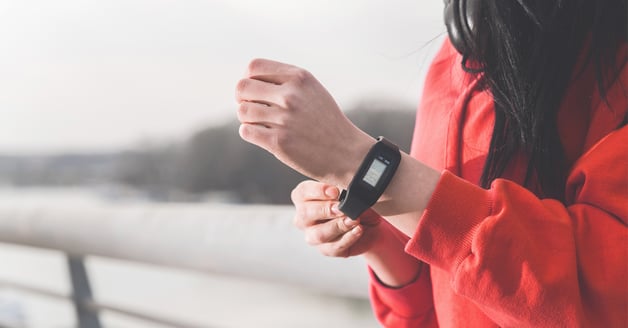 Nearly everyone is wearing them, it seems. And, if you're looking to make good on the inevitable "get in shape" resolution after the new year, you may want to put one of these little gadgets on your Christmas list too.
But, how do you choose a fitness tracker? There are so many options, and so many different specs and abilities to consider. If you're overwhelmed, you're not alone. The real key to choosing the right fitness tracker comes down to what you want to get out of it and how much that's worth to you.
So, although this article is highlighting five fitness trackers that are doubtless going to impress you going into 2020, take it as a guide for setting your priorities along with five great examples of how those priorities can be addressed.
What do you want out of a fitness tracker?
Some fitness trackers are essentially high-tech pedometers that can feed the number of steps you take to your smartphone where an app turns the numbers into pretty graphs. Others are highly refined sensors with built-in location mapping, exercise identification, heart rate monitor, and more. Still others are essentially smartphones on your wrist that also handle fitness tracking tasks.
So, one of the first things you need to determine when choosing a tracker is which capabilities are most important to you. Here are some of the most popular features you'll find in fitness trackers:
Step tracking - automatically counts the steps you take and tracks them to a goal. Keeps you moving!
Multi-exercise tracking - choose from walking, running, cycling, and more, for accurate tracking of what you're actually doing.
Automatic exercise recognition - the tracker senses your activity based on how it's moving and automatically tracks it without you having to remember to start and stop tracking your workout.
Water-resistant - the tracker can get wet without being harmed, so don't worry about sweat or getting caught in the rain.
Waterproof - the tracker can go with you in the shower or the pool, and may even be able to effectively track a swimming workout.
GPS (either built-in or phone-dependent) - beyond just estimating the distance you've moved during a workout, the tracker can record exactly where you traveled for greater accuracy and the ability to recall a favorite jogging or biking route.
Touchscreen display - from minimal to smartphone-quality, there's a fitness tracker to meet your display needs.
Sleep tracking - the tracker senses when you've fallen asleep and tracks your movement throughout the night for a highly accurate analysis of how well you're sleeping.
Sedentary warning - the tracker notifies you when you've been sitting still for too long so you can take a stretch break or a quick walk.
Heart rate monitor - the tracker monitors your real-time heart rate, either continually or on command.
Phone notifications - the tracker notifies you when you get a call, text, or app notification on your phone so you don't miss anything important while you're working out.
Independent apps - the more sophisticated fitness trackers — those that fit more squarely in the SmartWatch category — can run independent apps just like your phone.
Calls and messaging - some SmartWatches give you the ability to make and receive calls, texts, and emails through the watch, too. Most require your phone to be within a few feet (such as in your pocket) but some can even operate independently of your phone using Wi-Fi and/or their own mobile data plans.
Sleek, stylish design, multiple colors, etc. - while some trackers are utilitarian black bands, others are made to match your wardrobe or be a stylish accessory you'll want to match your clothing to.
What is each feature worth to you?
As with all gadgets, the more a fitness tracker does, and the more effectively it does it, the more you're likely to have to pay. And, while you can spend as much on a luxury watch as you can on a luxury car, all the above features and more can be found for under $400.
Near the top of that budget, you'll find the high-end smartwatches like the Apple Watch Series 5 (or presumably Series 6, if you wait until later in 2020 to pick yours up) the Samsung Galaxy watches, and the top-tier offerings from TicWatch, Huawei, and others. For the most part, these devices do an adequate job with fitness tracking. And, their other capabilities make them even more impressive.
However, if you're more interested in really hardcore fitness tracking and you're willing to skip some of the leave-your-phone-at-home bells and whistles, you'll probably want to settle on a dedicated fitness tracker such as the Garmin Vivosmart 4, Samsung Gear Fit 2, or the Fitbit Charge 3. All these impressive activity trackers retail for under $150.
Finally, don't discount all the budget-friendly offerings. While you do get what you pay for in most cases, there are a surprising number of trackers on the market for under $50 that are perfectly adequate for users who are just looking to increase their movement throughout the day and maybe work up to their first 5K. If that's you, don't spend $300 when you can spend $30 and still accomplish your goals.
The top 5 fitness trackers
As noted above, this isn't a ranked "Top 5" list, per se. It's a list of the best fitness trackers we could find to fit five particular sets of features you may be interested in. In each case, we've included some runners-up at the end of the section so you can compare them yourself.
Apple Watch Series 5 - Best smartwatch with fitness tracking built in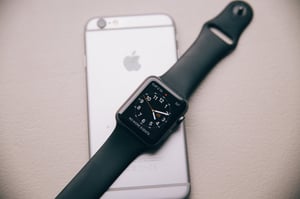 The Apple Watch was a game changer when it appeared, and it's remained ahead of a constantly growing pack for years now, as Apple is wont to do.
First, it's a stellar smartwatch with a gorgeous screen and smooth touch/dial operation. Light and sleek, but still with one of the largest screens available, it's very comfortable to wear and works well with whatever clothes you're sporting. It's also attractive enough to be considered a fashion accessory and Apple's huge selection of interchangeable bands extend that feature even more.
As a fitness tracker, the Apple Watch holds its own admirably. As noted by a reviewer at Digital Trends, "unless you're hyper-focused on one particular sport, like running marathons or another form of intense training where you need specific metrics, the Apple Watch is the only fitness and health tracker you'll ever need to wear."
Amazfit Bip - Best fitness tracker for Apple Watch fans on a budget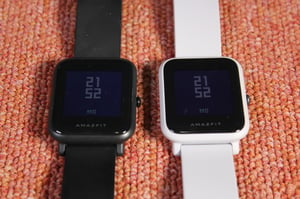 The Amazfit Bip is unapologetically inspired — both in looks and features — by the popular Apple Watch. But, at nearly one-fourth of the price, it's a far more budget-friendly option.
Although technically a smartwatch, the Bip really shines as a fitness tracker. It's packed with all the necessary sensors to track nearly any exercise accurately, and includes both heart rate monitoring and independent GPS, both of which are lacking in several more expensive options from leaders like FitBit and Garmin. It's also waterproof (at a depth of 5 feet for 30 minutes), so it can track a swimming workout or stay on in the shower.
There are definite limitations on the smartwatch side of the coin, primarily because the Bip runs on a proprietary OS and has very little available in terms of third party apps. However, as noted by a reviewer with Tom's Guide, "At less than $80, the Amazfit Bip is one of the least-expensive fitness trackers with both GPS and a heart rate monitor. It has a fairly good companion app, as well as a couple of independent, compatible apps for iOS and Android… if you just want something that has a lot of features, kinda sorta looks like an Apple Watch and costs a lot less, the Amazfit Bip could be your jam."
Fitbit Charge 3 - The best pure fitness tracker for all around wellness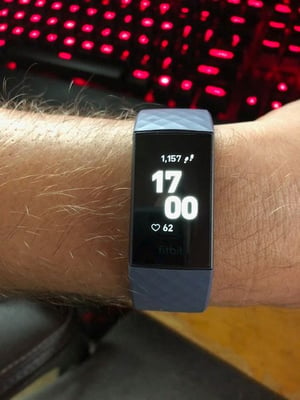 Fitbit has a long history of quality trackers. Some would argue they invented the industry with the release of its very first device in September of 2009. Although the fascinating history of the tech that led up to the modern fitness tracker includes several other companies and devices that may be able to argue a right to that claim, it's certainly true that the first Fitbit started the modern explosion in wearable fitness tracking technology.
The Fitbit Charge 3 is the most advanced fitness tracker the company has yet released, and it's dominated hundreds of "Top 10" reviews since it was released late in 2018, landing in the coveted #1 slot more often than not, despite being over a year old. With the Charge 4 unlikely to appear until late in 2020, this quality all-around tracker definitely deserves attention heading into the new year.
At $150, it's right in that sweet spot between the sacrifices that come with most budget buys and the often unnecessary bells and whistles of the more expensive options. But, it has just enough extras — like phone notifications and fashion bands — to give it an edge.
It includes all the tracking features you could want (minus independent GPS) and wraps them up in a simple but very effective user experience that's geared toward goal-oriented improvement rather than just monitoring. The tracker and companion app helps you set personalized, realistic goals in whatever areas of your health and wellness you're most interested in. And, with SmartTrack automatic activity recognition, you don't even need to tell your Charge 3 what you're doing. It already knows.
TechRadar sums it up nicely: "If you're after an activity tracker and consider yourself a moderate exerciser (working out twice or so a week) then the Fitbit Charge 3 is by far one of the best choices money can buy."
Garmin Forerunner 945 - The best tracker for the hardcore runner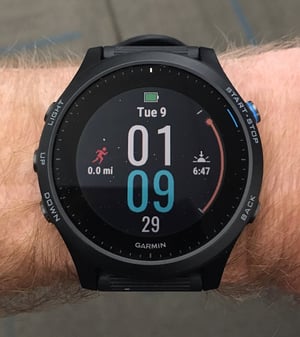 The Garmin Forerunner 945 wasn't built for the casual walk at lunchtime or the weekend warrior playing pickup basketball with whoever shows up at the Y. This is a professional-grade fitness tracker built for hardcore runners and triathletes who live and breathe their exercise routine. It's definitely expensive, clocking in at nearly $600. But, what it offers is essentially priceless for those dedicated athletes who measure their improvements in fractions of a second.
One of the key differentiators the FR945 offers is access to three separate satellite navigation systems, rather than just GPS. You can rest assured, no matter where you're running or swimming, your tracker knows exactly where you are. The Forerunner's advanced fitness package is rounded out by a host of reports and stats that other trackers haven't even considered: from peak energy intervals to blood oxygen saturation levels, the FR945 is all about eeking out peak performance, one workout at a time.
Xiaomi Mi Band 4 - The cheapest fitness tracker worth buying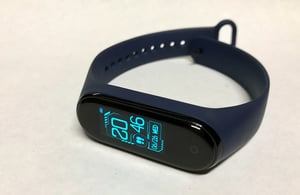 It needs to be said: there are a lot of cheap fitness trackers out there that aren't even worth the $10 or $20 you'll spend on them. However, that doesn't mean it's impossible to find a tracker for under $50 that's worth buying.
The Mi Band 4 is exceptionally inexpensive at just $35 on Amazon, but they've managed to pack an impressive level of sophistication into this cheap package: it's waterproof, runs for 20 days on one charge, and sports a brilliant color display. It's thin and sleek, but offers enough screen to be useful. And, alternate color bands are available for under $10 each if you want to mix and match.
Combined with your phone and the Mi app, the Mi Band 4 offers just about everything the casual resolution maker could need in a price that's incredibly easy to swallow.
So, there you have five fitness trackers that might be perfect for your 2020 fitness and wellness goals. Remember, there are dozens of other options to choose from, so take your time and do your research. But, by all means, don't hesitate to make that resolution to get in shape in the new year!