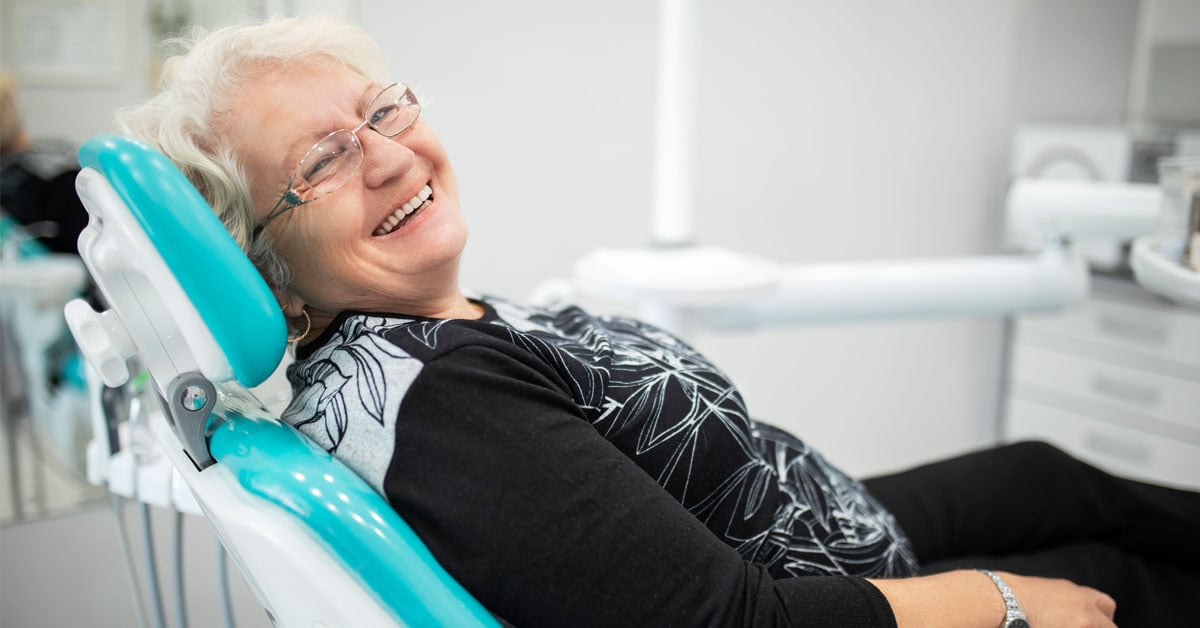 If you're thinking about dentures, you're not alone. In fact, according to the Journal of Prosthetic Dentistry, 37.5 million people will be wearing full dentures by 2020. Getting dentures is a complex dental procedure, with several factors and options that should be thoughtfully considered before making a decision. Here's everything you need to know before talking to your dentist.
Signs You Need Dentures & Why You Should Want Them
It may be a good time to consider dentures if you're experiencing any of the following:
Severe toothaches
Gum inflammation, bleeding, or swelling
Shifting or loose teeth
Missing teeth
Difficulty eating hard or chewy food
All of these symptoms indicate a loss in bone strength and health that can result in further pain and discomfort. Dentures have several benefits that can improve your overall oral health and appearance. Not only can dentures provide a better smile, but they can also prevent future teeth shifting and loss while giving you clearer speech.
Types of Dentures
If those signs apply to you, it may be time to consider your options. There are two major types of dentures available: fixed and removable.
Fixed options are usually used to replace the entire top or bottom arch of teeth. These are fixed with small screws that adhere to your jaw, heal over time, and more similarly mimic real teeth.
Removable dentures can range from full to partial. Partial removable sets fill in gaps when only some teeth are missing, while full sets are used when all teeth are either missing or there is a plan for them to be extracted. If your plans include tooth extraction, your gums will require time to heal and shift before being fitted for a permanent solution. In the meantime, your dentist may offer immediate dentures. These are also removable but only temporary until you've healed properly.
The Appointments You'll Need
Once you've decided, with your dentist, that dentures are the right option for you it's important to know what appointments to plan for. After a consultation, you may need to have some teeth extracted. Next will be a pre-denture visit to determine gum health and to take x-rays and afterwards, you'll have a fitting appointment that allows your dentist to size and align your dentures accordingly. Lastly, you'll try on your dentures to ensure they fit comfortably and then make any adjustments if necessary.
Over time, your teeth or gums may shift and you'll want to regularly see your dentist for adjustments approximately every three years.
Cost & Affordability
One of the largest concerns people have about dentures is the associated cost. The concern is justified, as dentures can end up costing anywhere from a few hundred to several thousand dollars. Lower-cost options can range from $300 to $500 per denture, or $600 to $1000 for a complete set. More advanced options can range anywhere from $500-$1500 per denture or $100-$3000 per set. While insurance may partially cover low-cost dentures for medical purposes, if you need a more premium option or a more extensive surgery, you could face an overwhelming dental bill.
"Over time, your teeth or gums may shift and you'll want to regularly see your dentist for adjustments approximately every three years."
The above price ranges normally don't include the cost of appointments or x-rays, so it's important to take those expenses into account as well.
Having a supplemental option to insurance can save significantly in the long run, especially if your perfect match for dentures isn't covered by standard dental insurance. Consider how a dental discount card can help you reduce the cost of dental procedures by 20-50 percent.
Ongoing Care
After everything is finished and you're able to go home with your perfect denture match, it's important to properly care for your dentures to ensure they'll last anywhere from five to eight years. When removing your dentures, you'll want to soak them in a cleansing solution, in warm water, for three to five minutes before brushing.
After soaking, you'll want to brush your dentures with a non-abrasive cleaner and a soft bristle toothbrush. If putting dentures back into your mouth, be sure to rinse and dry the material first. You should also rinse and dry dentures after eating.
Deciding to get dentures is a big decision with several health, financial, and aesthetic considerations. That's why it's so important to be sure to think about all aspects including the benefits, cost, and denture type when choosing your perfect match.