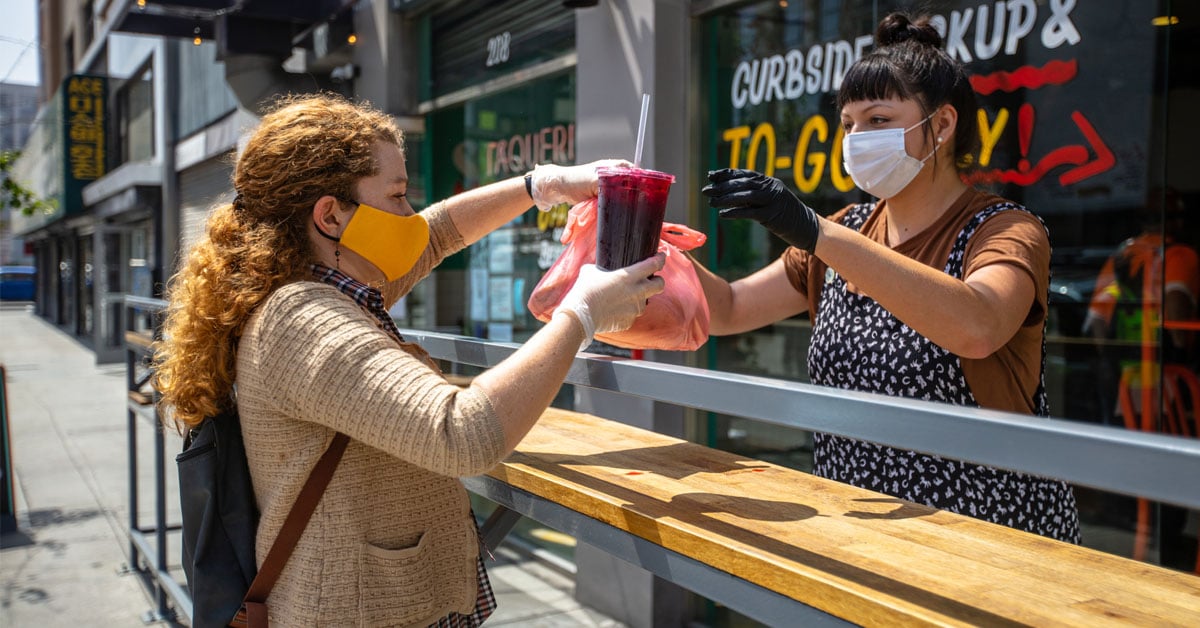 Note: This article was first published July 17, 2020 and COVID-19 is a rapidly changing situation. Though the information is still relevant, please refer to your community's guidelines first.
As businesses of all types start to open their doors, they will also be opening alongside a pandemic that is continuing to affect millions of Americans. But whether they are a doctor or dentist's office, grocery store, gift shop or local brewpub, businesses are taking many precautions to keep their employees and customers safe.
While there is still much we are learning about COVID-19, what we do have control over is the knowledge we can gather to make informed decisions about our actions. That's why we have compiled a list of questions to ask different types of businesses before you head out. That way, you can ensure you are as prepared as possible to safely run your errands, take care of your health and even enjoy a meal with a loved one.
Before we begin, we want to be clear that these suggestions are not one-size-fits-all and your community's situation may be taking precautions outside of what is outlined in this article. Please make sure you refer to your community's guidelines to ensure you are making the safest decision for you and your family.
In addition, this not an exhaustive list. If there are other concerns you have, make sure you ask! Even if the question seems minor, the more knowledge you can have to make an informed decision, the better.


What to ask any place you go
Regardless of where you are venturing out to, these are good questions to always make sure you have answered prior to your visit:
Are employees being tested for COVID-19?
Are employees wearing masks?
How often is the business and its restrooms being sanitized?
What are the guidelines for guest mask wearing?
Is touchless payment available?

What to ask your doctor or dentist
Even though doctor and dentist offices have begun to reopen and are taking every precaution to ensure the safety of employees and patients, the Center for Disease Control (CDC) still recommends reaching out before your visit. If possible, determine if your appointment can be done virtually or be rescheduled. For appointments that are necessary in person, consider asking these questions:
Does the staff have enough masks and personal protective equipment (PPE)?
Are there limits to how many people you can bring with you to your appointment?
How often is the office and its equipment being sanitized?
Will you have access to a waiting room or will you be asked to wait in your vehicle?
Is there a virtual check-in?


What to ask a restaurant
Depending where you live, restaurants could be in all phases of reopening. You will definitely want to understand how COVID-19 is spreading in your community before you consider dining out. Even before picking up the phone, you may want to check out a restaurant's website or social media pages to see if they have their safety guidelines posted.
Are all tables spaced six feet or more apart?
Are there capacity limits in place to prevent overcrowding?
Do they have seating outdoors? (Public health officials universally agree dining outdoors is safer.)
Are there protective measures in place for ordering, such as ordering by phone or using disposable menus?
Do they offer contactless pickup options (such as curbside to-go) in the event you'd rather not dine onsite?


What to ask a retail store
Though many of us turned to online shopping during the early days of the pandemic, there are some things we just need or want to go to a brick and mortar shop for. Whether it is for groceries or a treat for yourself, here are some questions to consider before you start shopping in-person:
Do they offer delivery or a curbside pick-up option?
Are the carts and merchandise sanitized on a regular basis?
Are there capacity limits?
Are there limits to how many people you can bring shopping with you?


What to ask yourself
Yes, you need to ask yourself some questions, too! After being cooped up for months, the thought of being able to venture out into a sense of normalcy can be invigorating. But it's important to remember that things are not normal: they are normal "right now." That means the situation is constantly evolving and the concept of normal is going to adapt depending on what current events dictate.
So, until there is a vaccine for COVID-19, you'll want to make sure you ask yourself these questions before heading out:
Have I, or someone I live with, been sick in the last 14 days?
What are the local orders in my community?
Am I, or someone I live with, at a higher risk for severe illness?
Do I practice everyday preventative actions, such as frequent handwashing and wearing a mask?
Will my activity put me in close contact with others?
Do I have my mask ready to go or will the business be distributing them for guests?
Do I have hand sanitizer and tissues I can bring with me?
For a complete list of precautions to take before going out, check out this resource from the CDC.
The bottom line: Before you venture out, check your community's safety guidelines. Make sure you are prepared for your trip by asking the business questions ahead of time. Even with places opening up, things are not normal: they are normal "right now" and we need to be able to adapt to the current situation. Make sure you are in good health and take proper precautions before heading out the door.