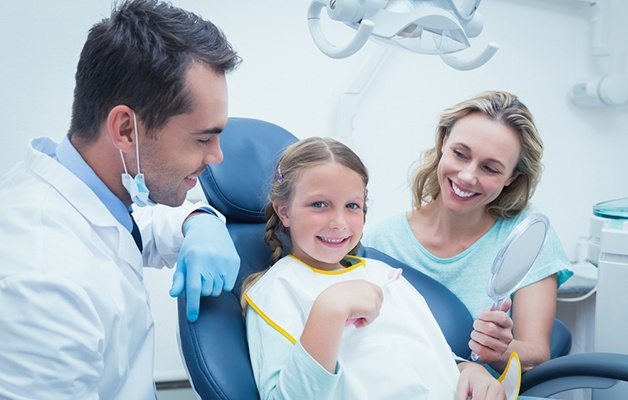 Dental coverage is often treated like an auxiliary option — something reserved for those with a lot of money, while everyone else has to make do without the luxury of coverage. Due to cost, many families opt out of dental coverage, or it is not included in employer benefit packages in the first place.
Without affordable dental care, accounting for recommended semiannual visits and unforeseen procedures can be nearly impossible. Whatever the reason is for forgoing traditional dental insurance, it is important to still have a way to pay for dental costs.
Like an aching tooth, you may have put off the nagging need to get dental coverage due to cost. Maybe, even worse, you save up to pay the full cost of dentist visits, and have accepted this large cost as part of having a family.
According to one study, nearly 45 percent of Americans are without dental insurance. That means millions of Americans are paying out of pocket for checkups and procedures that can cost hundreds, if not thousands, of dollars. Due to the cost, many choose to avoid dentist all together, which can have lasting effects on oral health.
The same study found that people without coverage are less likely to get cleanings, and need more procedures associated with gum disease. As good intentioned as daily brushing and flossing might be, without professional cleaning and check ups, it is nearly impossible to maintain optimal oral health. Where does this leave the millions of Americans that don't have dental insurance?
Can Family Dental Care Really Be Affordable?
Luckily, there is an affordable option for those looking for help. A dental discount program is an alternative to traditional dental insurance that offers savings to members. This option affirms that oral health is not a luxury, but an affordable feature for any family. With a dental discount plan, users save on regular dentist visits, cleanings, advanced procedures and other oral health services.
Think of it like a subscription service for you teeth — for the price of a video streaming subscription, members receive discounts between 20 - 50 percent on trips to the dentist. Options like Dental Solutions give members affordable dental care for the price of online sitcom reruns.
A $9.95 a month Dental Solutions membership gives instant savings to you and everyone in your family — one subscription for the whole family, and a lot of money saved. No copay or deductible, and no plan limitations means families have the flexibility to tailor dental care to their individual needs. This makes it easy to fit in cleanings, and provides a safety net for any unexpected dental procedures.
Dental savings plans connect members to a nationwide network of dental professionals — including specialty networks for services like orthodontics, oral surgery and children's specialists. The growing list of providers means members have agency in dental services, which is crucial when selecting a dentist to care for your family.
Dental discount programs are a reliable alternative to traditional dental insurance, and cater to families living on a budget. With Dental Solutions, the whole family is included under one subscription fee, so mom, dad and the kids can all have a healthy, white smile for an affordable price.
Learn how Dental Solutions can save you and your family money on dental costs by contacting us today, and see what membership option is right for you.