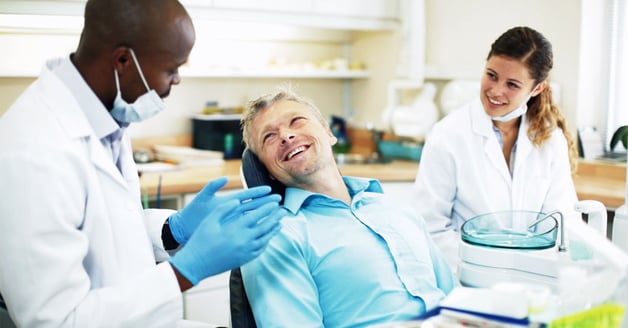 There are dozens of dental discount plans available, and most of them are very similar. But, they're not exactly the same, and it's those sometimes subtle differences that need to play into your decision as to which discount plan you're going to choose.
In this brief article, we want to highlight three important factors that the best dental discount plans share in common. If you're thinking of choosing a plan that doesn't include all three of these elements, you may want to reconsider.
An extensive panel of high-quality providers
When you join a dental discount plan, what you're actually paying for is access to the plan's list of participating dental professionals. That's who has contractually agreed to honor the discounts the plan is advertising. So, to take full advantage of the discount plan, you're limited to whoever is on that list.
Here are a few important questions you need to ask yourself as you consider the list of participating providers for each plan:
Is my dentist on the list?
If not, am I willing to switch?
Are there plenty of providers within a convenient distance of my home and/or work?
If not, how far am I willing to travel?
What kinds of reviews or customer feedback shows up for most of the participating providers?
Your oral health and that of your family are important. You need to be able to trust your dentist and feel comfortable going there regularly. An extensive list of high-quality providers with proven track records is absolutely vital if you're going to get the most out of your dental discount plan.
Discounts applied to a wide range of dental services
Dental procedures can be broken down into two main groups: standard or routine services (like your semiannual cleaning and examination), and advanced or specialty services (like oral surgery, wisdom tooth removal, and orthodontics.
Every dental discount plan offers standard services at a discounted rate, but they don't all offer advanced services. And, logically, advanced services are quite a bit more expensive. Here are a few more questions to consider:
What are the chances I'll need dental services beyond the routine exam and cleaning this year?
What about the rest of my family?
How much does the plan cost, and how does that compare with what it will save me on the services I'm most likely to need?
Is it really worth it?
Obviously, the routine services you need every six months is the most important consideration because it's a guaranteed expense (if you're taking care of your oral health properly.) However, consider your own and your family's dental history and be realistic: isn't it fairly likely someone is going to need a filling, an extraction, or something even more involved? Wouldn't it give you peace of mind to know you don't have to pay full price for an advanced dental service when it comes up unexpectedly?
Mostly positive reviews from satisfied customers
Exploring customer reviews has become second nature in our Amazon shopping culture, and you can learn a lot by reading the experiences of past customers of a dental discount plan. Of course, customer reviews do need to be taken with a grain of salt.
Anytime a company is offering a service to a wide range of customers, there are bound to be people who made the purchase when they really weren't a good fit for what was being offered. And, there are legitimate complaints and problems that come up in every commercial scenario. So, as you're comparing discount plans, you're unlikely to find any with perfect five-star reviews across the board.
But, you do need to look at the big picture and ask yourself these questions:
Are the majority of the customers who decided to review this plan satisfied or dissatisfied with the service?
Are there any complaints that keep coming up again and again, indicating a legitimate trend?
Are any of these common complaints issues you can see yourself struggling with under the same circumstances, or not?
After reading through a fair selection of reviews, what's your gut feeling about the quality of the discount plan you're exploring?
Once you're comfortable with "the big picture," you're probably ready to make a decision and join a dental discount plan.
How does Dental Solutions stack up?
We'd be foolish not to conclude by putting this list of positive qualities in context by letting you know how the Dental Solutions discount plan holds up under the scrutiny described.
As for our list of providers, we're built on the Dentemax network of dental professionals. This is the largest leasable dental PPO network in the United States, with over 70,000 in-network dentists participating in the Dental Solutions dental discount plan nationwide. More than 20 million members in the U.S. visit Dentemax providers regularly. Selection is widest in more highly populated areas, but even if you live in a rural area, you can probably find a participating Dentemax provider close enough to you to be convenient.
Click here to search for providers near you.
The Dental Solutions dental discount plan isn't limited to just standard or routine services. In fact, just about anything you or your family may need to maintain excellent oral health is available at a discounted rate through our plan. This includes oral surgery, orthodontics, extractions, fillings, and much more.
Click here to see a sample list of what you can save on each service.
We pride ourselves on being transparent with plan policies, and offering world-class customer service to all our members and providers. That's why Dental Solutions enjoys customer ratings that are well above average in the industry.
Click here to start exploring our customer reviews.
Once you've had a chance to thoroughly research a number of programs, we'd love you to give us a chance to prove why we think we're the best dental discount plan available. If you agree, click the button below to get started.