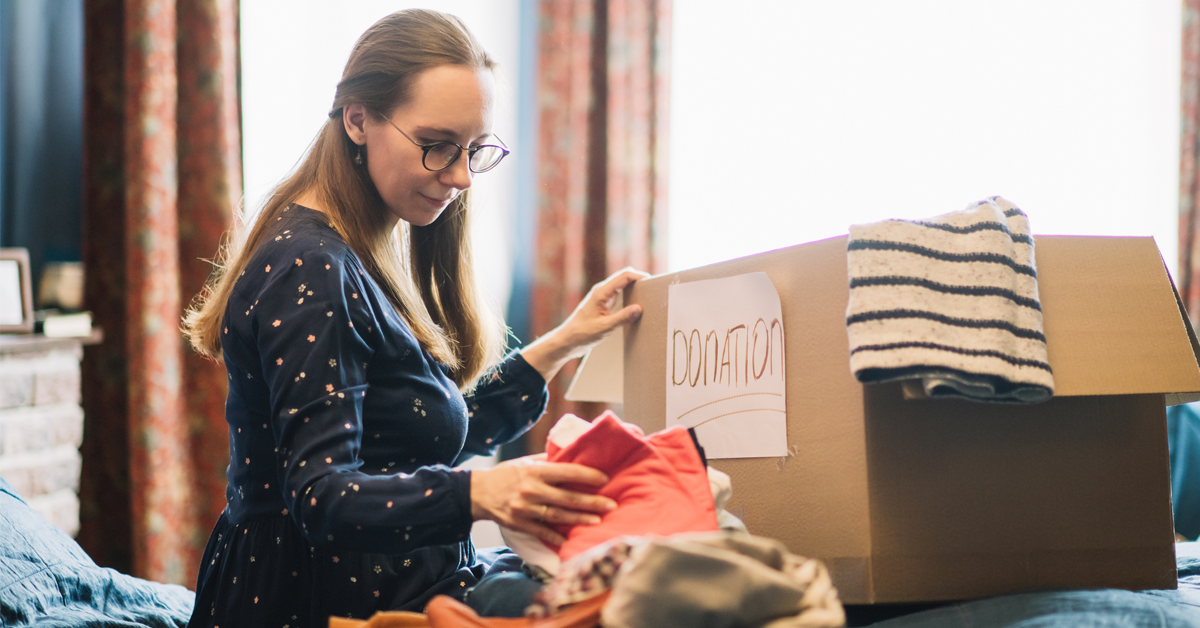 From internet feeds to local news broadcasts, headlines about the state of our planet are everywhere. And for good reason: trash that is dumped in landfills releases methane gas, which then emits dangerous levels of carbon monoxide into our atmosphere. All that talk of climate change you keep hearing about? The things we throw away are a big part it.
As we enter spring cleaning season, we may be thinking of ways to declutter our homes. Whether your next project involves organizing the pantry, purging your closet or removing unwanted furniture, we haves some eco-friendly strategies for you.


The Pantry Cleanout
In the early stages of the COVID-19 pandemic, uncertainty was everywhere. As a result, Americans began to stock their pantries with non-perishable items to prepare for what was to come. Fortunately, grocery store shelves returned to a more normal state after a few months, but many of us still have a supply of those shelf-stable goods we bought. So, what should you do with them?
First and foremost, check the expiration date. If the time has passed, it should not be eaten or donated. Instead, see if the ingredients can be composted and make sure to check if the cans, boxes and bottles can be recycled.
If the dates are still good, you could donate the items to a local food bank near you. Or, if you are feeling adventurous, you could finally put some of those ingredients to use! Here are some quick recipe links to get you inspired:
The Closet Purge
There are fewer organization tasks more liberating than a closet purge. By weeding out clothes you no longer wear, you can free up your closet from items that don't make you feel your best. But once you have a pile of discarded clothes in your home, it can be a bit overwhelming to decide your next move.
If the clothes are in good shape, the easy answer is to donate them. To see where your clothing donation may make the biggest impact, do some research for groups that support members of your community directly. Places of worship, community centers and local news outlets are great places to start looking. You could also do a clothing swap with friends and gain some new pieces yourself!
For clothes that have seen better days, textile recycling is a great option that repurposes old clothes into new creations by breaking down the fabric, yarn and fibers. Contact your local recycling facility to learn of a textile recycling center or bin near you.
A final thought on closet purging: according to a 2015 study, the average piece of clothing only gets worn seven times before being discarded. This results in almost 85% of clothing in the U.S. getting thrown away and most likely in a landfill. When purchasing clothes, resist the urge of fast fashion and instead consider thrifting or investing in quality pieces.


The Furniture Haul
Maybe you are about to move and some of your current pieces of furniture don't work in your new space. Or perhaps you are finally ready to upgrade an old couch or dining set. Either way, you now have a large, heavy thing that needs to be moved out of your home.
It may be tempting to grab a friend and drag it out to the curb for garbage collection, but please don't. Depending where you live, your city may not even take it and if it does, it is almost certainly going to end up in a landfill: in 2017, Americans contributed to 12.2 million tons of furniture waste.
Instead, consider donating: MYMOVE compiled a list of places offering free donation pick-ups that come right to your home. From there, your furniture will go to families in need or sold in charitable thrift shops that use the proceeds to help their community efforts.
You can also help somebody that needs help furnishing their home by posting your furniture online. Most communities have buy/sell/swap groups, so check out community social media pages to see where the action is happening.

The bottom line: There are many ways to declutter your home without contributing to landfills. Think about how items can be repurposed or given to someone in need: that extra effort can go a long way in saving our planet.