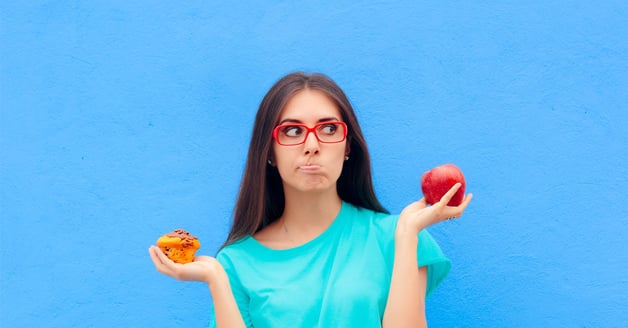 Every year, Action on Sugar, a U.K.-based non-profit organization, hosts Sugar Awareness Week, an event that provides evidence-based education about the danger of excess sugar consumption, a leading cause of the obesity epidemic facing many nations. Even though the event falls in the third week in January, being aware of how much sugar we consume is something we should be cognizant of all year round.
This year's theme was "What's in Your Drink?" This is powerful because sugary beverages like sodas, energy drinks, and fruit juices, are consistently among the largest contributors to excess sugar and calories in the American diet.
Oftentimes, we don't even realize or think about the number of calories we're drinking on a daily basis. And, the fact that these drinks are loaded with simple sugar means they spike blood sugar, leading to an inevitable crash afterward. That crash is accompanied by a powerful craving for more sugar, creating a self-perpetuating cycle.
We've talked before about sugary drinks, and specifically their impact on your teeth. But, in support of Sugar Awareness Week, we want to help you test your knowledge from a total health perspective. Take this short quiz to learn your own level of sugar awareness!
Test your sugar awareness
How many calories are there in one gram of sugar?

Less than 1
2
4
10

How many grams of sugar are in the average sugar-sweetened drink?

10
37
55
74

How many grams of added sugar should you be eating each day?

25
39
85
126

How many grams of added sugar does the average American eat every day?

25
39
72
126

Which of the following are names for added sugar that you may find on a nutrition label?

Sucrose
Fruit juice concentrate
High fructose corn syrup
Sorbitol
Sorghum syrup
Agave nectar
None of the above
All of the above

Which popular category of "diet" foods contain more sugar than their original "unhealthy" counterparts?

Low carb foods
Low fat foods
High protein foods
Sugar-free foods

Which of these health conditions have been linked to eating too much sugar?

Obesity
Dental caries (cavities)
Diabetes
Depression
Heart disease
Cancer
Fatty liver disease
Kidney disease
Dementia
All of the above

True or false: It's possible to never eat another gram of added sugar.

True
False
Answers
So, how'd you do? Most people are pretty surprised by at least some of these facts about sugar and its effect on health. The real key to take away from this little quiz is how easy the modern diet has made it for you to eat way too much sugar. With some basic facts in the back of your mind, and more heightened awareness in general, you have the tools you need to build a much healthier lifestyle for you and your family.