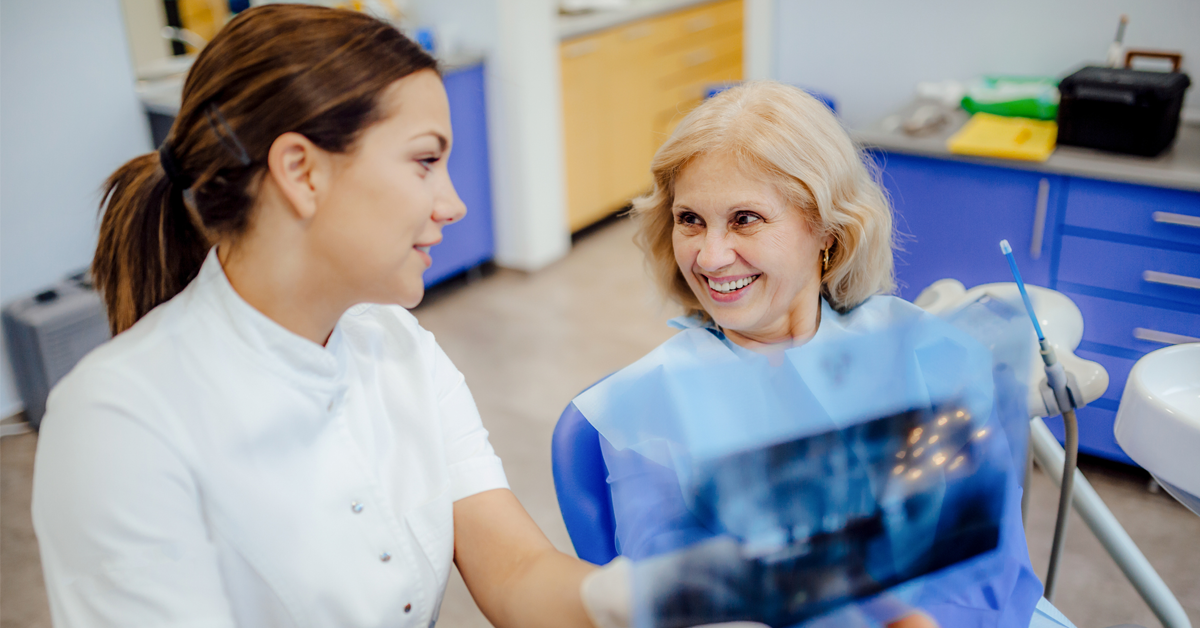 If the thought of going to the dentist stresses you out, you're not alone. One study revealed that 61% of people worldwide suffer from some degree of dental anxiety, including one out of three Americans. Some even experience dentophobia, which is a severe fear of seeing a dentist.
No matter the level of anxiety you may be experiencing, they all have the same outcome: keeping you away from taking care of their oral health. And if you're a frequent reader of this blog, you know by now that maintaining your oral health is essential to your overall health.
In this article, we're going to identify four common triggers of dental anxiety and give you some strategies to help put your mind at ease. That way, you can feel confident in receiving the oral health care you deserve.
Note: While this article can be used as a starting a point for your journey, you should speak with a primary care physician or mental health professional about any concerns you have about your anxiety and its symptoms.
What causes dental anxiety and ways to cope
There are many things that can trigger anxiety about seeing the dentist. Here are four of the most popular, with strategies to help cope for each.


Fear of the unknown
Have you ever felt nervous going somewhere new for the first time? Or ran through a list of "what ifs" before a big event? That feeling is called anticipatory anxiety, a common form of stress that affects just about everyone.
And when it comes to seeing the dentist, there are many unknowns that can cause distress. How will a procedure be performed? What tools will be used? Is it going to hurt?
How to cope: When we experience stress from a lack of knowledge, the best remedy is to learn all you can to help put your mind at ease. Before making an appointment, call your dentist and be honest about your concerns. Most dentists or hygienists will be more than happy to walk you through a procedure and answer any questions. You may even want to visit the office first to talk to the team and see where the work is done.
Online stories
Perhaps you read a dentist horror story somebody shared on your Facebook feed. Or when researching dentists, you found a bad Google review that has you second guessing your decision to seek care. The internet is a great tool for many things, but it is also an easy way to spread misinformation.
How to cope: While there are certainly legitimate viral stories and honest reviews, there are also bad actors that intentionally share misinformation with malicious intent. If you see a story or review that invokes a strong emotional response, approach it with a healthy level of skepticism. If it is a story someone shared, see if you can find the website it came from and ensure it is a legitimate source of truth. Or look for trends in a practice's online reviews over time instead of reading the most recent. You can use these tips to help fact check what you read online.


Past experiences
For some, the thought of sitting in a dental chair can raise many concerns. Maybe a bad dental experience as a child made someone not want to return. Or worse, victims of sexual abuse may be triggered by a potential feeling of helplessness while in the chair. Our past experiences shape our perspective and feelings of concern stemming from them are absolutely valid and reasonable.
How to cope: As we discussed with the fear of the unknown, communication is key. If you have had a traumatic experience that is a barrier to your care, make sure the dentist is aware. Ask them if they have experience caring for patients with trauma and what strategies they utilize to make people feel comfortable and safe. There are even dentists who specialize in seeing patients with anxiety stemming from a traumatic experience, so make sure to ask around and do some research to make sure you find the dentist right for you.
Concerns about cost
Of all the barriers keeping people away from the dentist, anxiety about what the visit could cost is by far one of the most common—especially for those without dental insurance. But oral health plays a significant role in the picture of your overall wellbeing and should not be put off until an emergency happens.
How to cope: Thankfully, dental insurance through an employer is not the only way to save money on caring for your oral health. There many options worth exploring, including using a dental discount card, researching individual insurance coverage, contacting your local community health center and seeking out dental schools in your area. You can also talk to your dentist about your concerns: they may be able to work with you on financing options.

The bottom line: Going to the dentist can cause anxiety for many patients. But with communication and education, many common fears can be put at ease.
Keep reading: The 4 Biggest Ways Stress Affects Your Oral Health