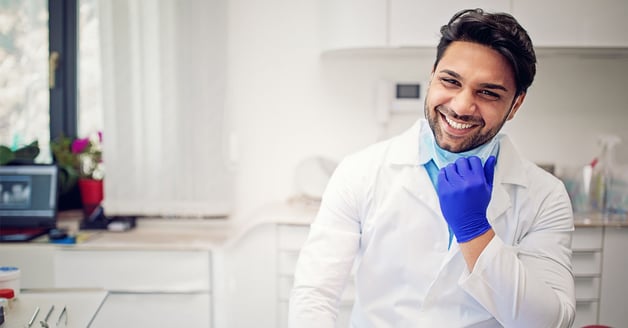 Let's be honest: going to the dentist isn't something most people want to do in their free time. Some people even experience dental anxiety or dentaphobia, which can keep them from making an appointment in the first place.
But what many patients forget is that dentists, hygienists and the entire team that keeps a practice running are people as well. And when patients don't show up for appointments or ignore basic oral health advice, it can be frustrating for all parties involved.
In this article, we're going to reveal the four biggest things your dentist wants you to know and what you can do to help make your experience at the dental office better.


Putting off or constantly rescheduling your appointment is bad for your oral health
No matter how hard we try to have our lives run smoothly, sometimes life just gets in the way. Maybe you get sick or your vacation overlaps with your scheduled cleaning. As long as nothing dire is happening with your oral health, you are probably okay if you go seven months between visits instead of six.
But if it has been years since your last appointment, or if you've kicked your latest cleaning down the road several times, enough time has passed to where you are definitely due for a visit.


What your dentist wants you to know
Waiting too long to make it to the dental office doesn't just mean you've put yourself through unnecessary strife. It also means your visit could result in a long, difficult undertaking for the dental team. And something that could have been taken care of in one visit may now require several.
The lesson here? For the sake of your own comfort (and the dental team that wants to help you), stick to a regular cadence of cleanings, preferably every six months.
Showing up late (or not showing up) to appointments hurts their business
We're all busy and, as mentioned before, sometimes life just happens. If you're running a few minutes late, that's one thing. By calling your dental office to let them know, they will likely understand and can make adjustments.
But if you are late to your appointment with no warning, you are not going to be able to be seen on time. And your unannounced tardiness will affect all other appointments scheduled for the day. The only thing worse is if you don't show up at all.


What your dentist wants you to know
This just comes down to understanding common courtesy and how a dental office operates.
In order to cover their expenses and serve all their patients appropriately, a dentist needs to see a set number of patients each day. If an office supports two or more dentists, those numbers multiply accordingly. To make sure each patient gets the attention they deserve, a block of time is set aside for them in the day's schedule.
So, if the patient arrives late or not at all, there are only a few ways the office can proceed:
Move up the appointment of someone who has arrived early.

Rush through patient's appointment if late.

Force every patient from that point forward to wait longer than anticipated.

Take the financial loss for a missing patient.
Obviously, none of these are ideal outcomes. They not only affect the function of the dental office, but the mood and well-being of other patients.
So please, if you're running late or need to reschedule, call in advance!


Smoking and vaping cause many oral health problems
You don't need us to remind you about the laundry list of oral health side effects that come from smoking. And no, vaping isn't much better: The e-cigarettes that are popular with younger generations still contain nicotine, which restricts blood flow to the gums, contributing to gum disease.

What your dentist wants you to know
While some oral health issues are hereditary, the use of nicotine can lead to many problems that are self-inflicted. Quitting the habit is a challenge, but doing so is a huge boon to not just your oral health, but your overall well-being as well.
Your dentist can help guide you on the path to a smoke-free lifestyle, so don't hesitate to ask questions about how to drop the habit.


Flossing only on the day of your appointment? Your dentist knows.
If you haven't flossed in months and suddenly do it the day of your appointment, you may think you are tricking your dentist. Well, we hate to break it to you, but you aren't fooling anyone. A trained dental professional can tell the difference as soon as you open your mouth.

What your dentist wants you to know
When you skip flossing, you are only cleaning about 70% of your tooth's surface. Flossing helps you clean the other 30% that the bristles of your brush can't reach, which is why you want to make sure you are doing both tasks on a daily basis.
So don't just floss on the day of your next cleaning. Make it a habit by setting an alarm on your phone and keeping your floss in sight. And while most people floss at night, there is no one time to floss that is better than the other. If flossing in the morning helps you remember to do it more, do what works for you!


The bottom line: While going to the dentist may not be everyone's favorite way to spend free time, your dentist wants to help you thrive. And by understanding their perspective, you can have a great partnership in oral health for years to come.
This article has been updated from its original publication date of 10/29/18.